And just like that, another year of Coachella has come and gone. I feel like it's almost one of those things that doesn't even seem real till you get home and have had a few days to process it. So, now, in retrospect, I can safely say this was a top year for Coachella.
My fifth year at Coachella raised many questions, but the two I was most concerned with were: 1, is it still worth it and 2, when do I retire? I feel like these are so up in the air, but this year was really spectacular. From all of the sets we saw to all the matcha lemonades I consumed to all the content stops along the way, it's the magic of being in Indio that really brings it all together.

We headed out on Thursday and dedicated the afternoon to exploring the desert cities as we tried to conquer as many Desert X stops as possible before sundown. I was so excited to show my friends who had never done Desert X before what it's all about, and I'm so glad that they said their trip wouldn't have been complete without it. The weather that day was definitely less than ideal, but we tried to make the most of it. Being able to see all these incredible piece in person against that rocky skyline was indescribable.
Contrary to popular belief, I go to Coachella and other festivals first and foremost for the music. This year's lineup greatly surpassed that of last year's, and I feel like the performances were really just top notch. Live shows are such a high bar for me — they can really make or break my interest in an artist.
In my pre-Coachella post, I talked about the acts I was most excited to see, so I got to see all of those acts except Solange (rip). My two favorite sets were, without a question, Kid Cudi and Sofi Tukker. Cudi probably comes as no surprise here, but I did have to miss the first bit of the set. Major Lazer was also booked for a surprise DoLab set at the same time, so you must understand how hard this was for me. I felt obligated to stop by Major Lazer since it might be one of the very last times I get to see them. The set, however was a lil wack, so we headed to Sahara for some Scott time. I was astonished by not only the size of the crowd he drew in (you could barely get in the tent) but also how involved and into it the entire crowd was. I was nervous that we had missed some of the heavier hits, but we did get to hear Mr. Rager, which put me right into tears as he transitioned into Pursuit. Again, another full circle moment in my life.

When I wrote the pre-post, I originally wrote an entry about being really stoked for Sofi Tukker but last minute changed them out for Solange (again, rip). Their set might have been one of the best I've seen in my life; they sounded incredible live, brought out amazing guests (Pablo Vittar!!!!!!!), engaged so well with the crowd and had insane visuals all while premiering a new show and production. I think like two songs in I was already saying they were a top set of the weekend.
Other acts I wish I had seen were Gesaffelstein, Polo & Pan, Tynan and Jon Hopkins. I was so excited for Kayzo's set with his new Unleashed production — and because I had a hunch that he'd bring out Alex Gaskarth for their new collab, Up in Flames — but it didn't stand up to his other sets I've seen. I was most disappointed with Billie Eilish, who was the act I was probably most excited about. She was about 40 minutes late, was super out of breath, didn't know her own lyrics nor did she look all there. I feel that maybe she got a lil too messed up before, but we're still waiting for some tea there. Ariana was pretty underwhelming. We only stayed for a few songs before heading to NGHTMRE, and I didn't think she sounded all that great live. Unsung hero set was, without a question, J Balvin.
Other than the music, it was so much fun to frolic around the fields bouncing from stage to stage and stopping for some MatchaBar along the way. I actually wasn't that put off by the updated layout nor the crowds for once, and I looooooved the new Heineken House. I was able to catch a few sets in there, and the energy was so, so good. Everyone was super into it as we all bobbed around in our pashminas.
For my lewks this year, I wanted to do some that were a bit more feminine than I usually do and was really into sparkles, sequins and rhinestones.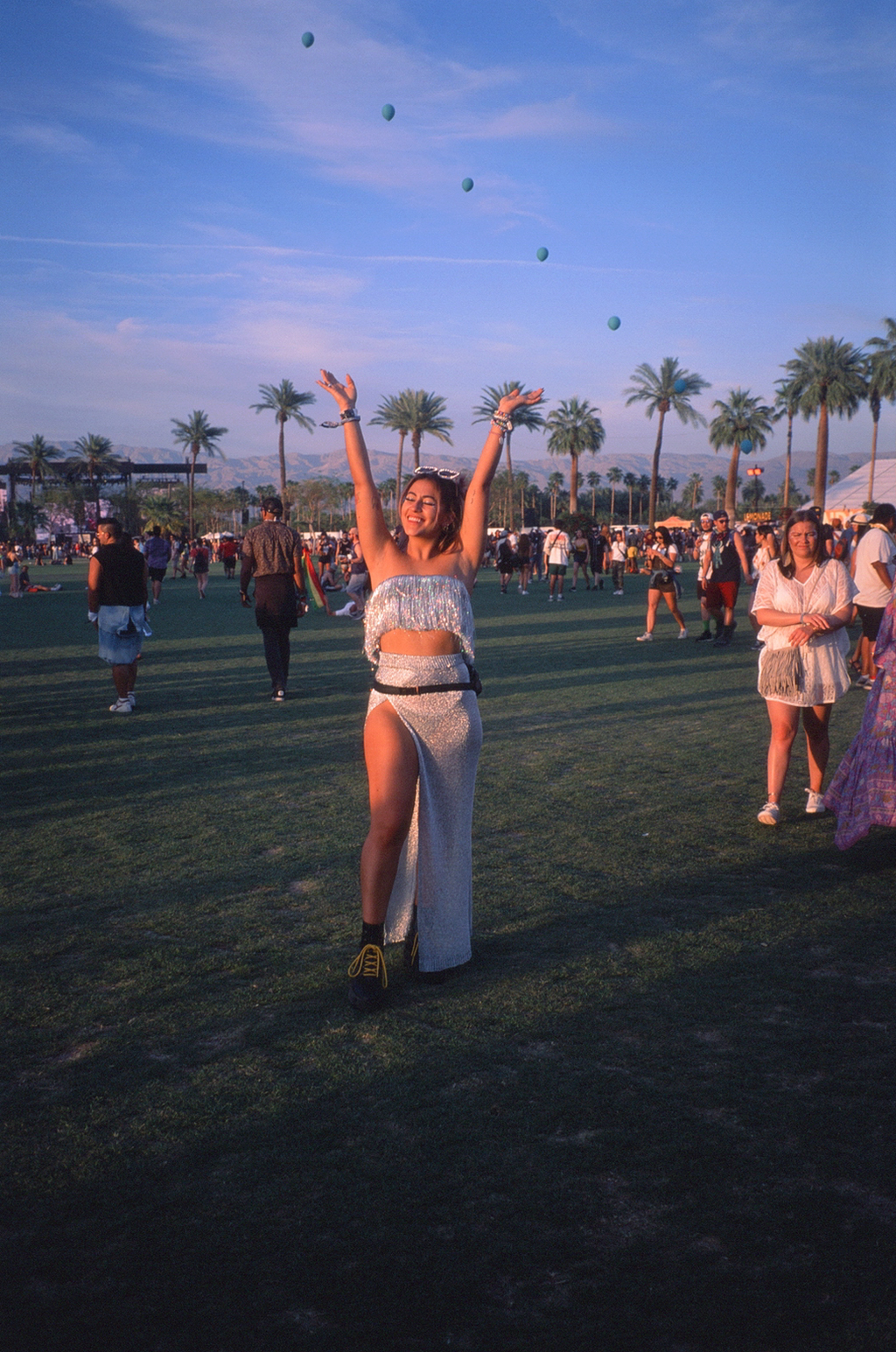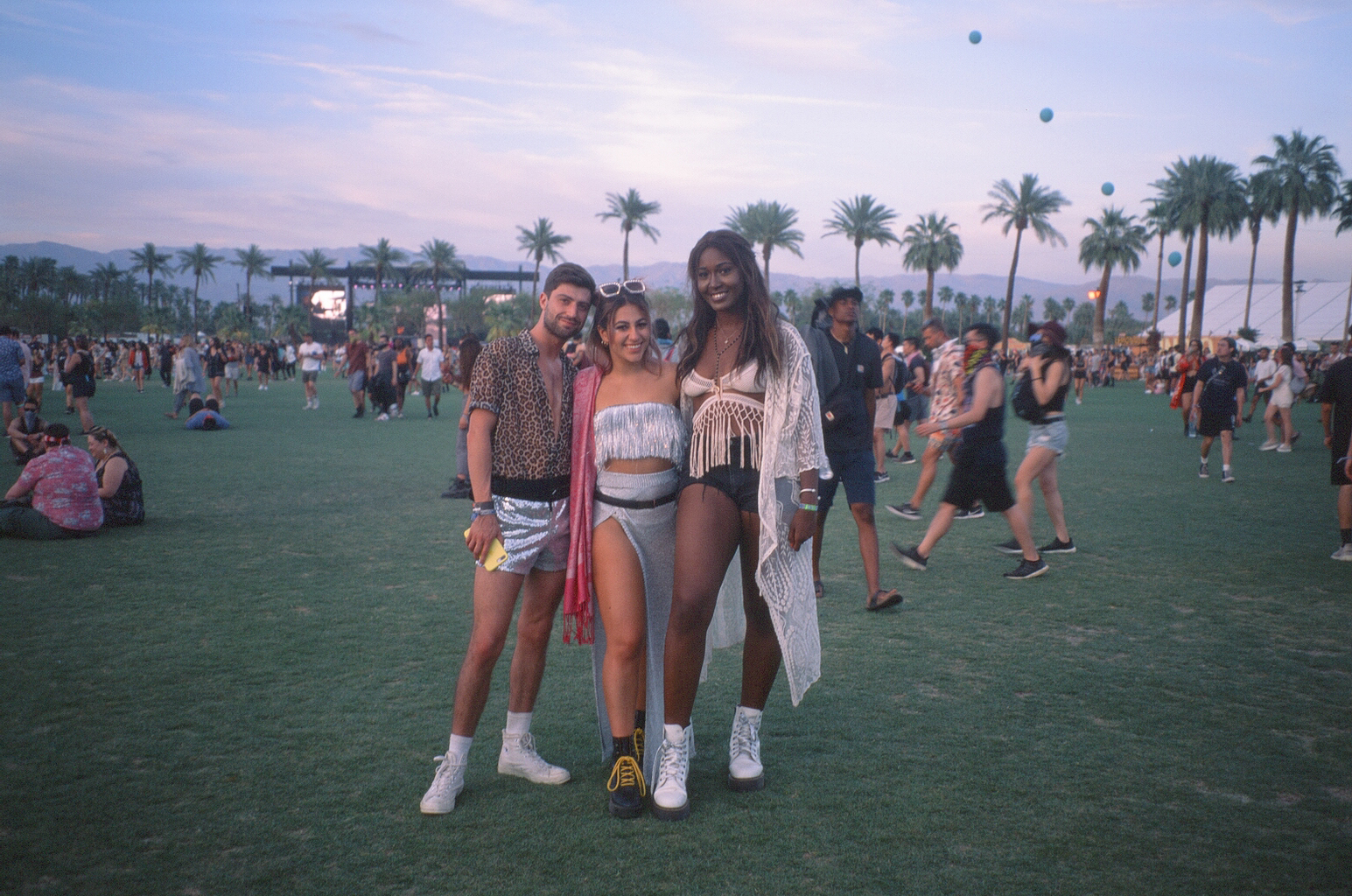 My day one look actually ended up being a group effort. I swear on my life that we didn't plan this. We all just happened to have these neon green lewks ready, so we figured we should just all wear them on the same day, and my and Camille's snakeskin really rounded the whole group look so well. My bikini was from ASOS, skirt from LunaB and shoes were Dr. Marten's. I also rocked my Kayzo shirt from Audiotistic.

Saturday, I wore a dress I got from Free People after exchanging some Christmas presents. I paired it with my pashmina, black sunglasses and trusty Leona boots from Dr. Marten's.

Sunday, I felt like an ice rave queen as I wandered thru Empire Polo in a sparkly fringe tube top from Forever 21 and skirt also from LunaB over silver Billabong bottoms. I added on my Leona boots and Fucci sunglasses I got at Target.
While I'm still trying to recover from all the dust in my lungs, severe lack of sleep and busted neck from headbanging, I have a full heart reminding me why I do this. These experiences are ones we hold close and can never duplicate exactly ever again. These moments bring us together and strengthen our bonds. We reach a new level or enlightenment as our senses through sight and hearing are heightened. I'm grateful for another great year in Indio and am already exhausted just thinking about Bonnaroo in a few short weeks.