Everyone knows how much I love music and going to concerts, so naturally, festivals are a must. How convenient that I am interning in the Bay this summer so I could attend the legendary Outside Lands festival in Golden Gate Park. Last year, I bought a ticket to OSL assuming I would be in LA for the summer, but sometimes, shit happens, and you end up studying abroad.
I was super excited for Outside Lands, and I wasn't sure what to expect overall besides: wine, grass, blankets, cold, grey, trees (oh, the trees), daytime, etc. After my first two days, I wasn't sure about how it would stand up to Coachella (Let's not even try to talk about me missing it this year because I was studying abroad, again), but by the time I jumped into bed on Sunday night, I knew it was a solid time.
OSL tried to go all cashless this year, encouraging patrons to pay for items with credit or debit cards or by loading up money on their wristbands. There were a lot of complications, but I think this is an insanely smart idea and hope to see it at more festivals.
I loved going to the smaller stages also, like the StubHub Sound Stage. These are fun because they are just playing jams all day in a smaller, less intense (well, sometimes) setting. Not to mention, most of the artists playing these tents are playing the festival on the main stages or are special announcements.
Also, just wanted to commemorate the adventure I took with Wes and Peter to Stock in Trade after a failed attempt in The Castro, which ended with a lit AF dining experience at Mel's Diner (RIP wedge salad).
Here's a quick recap of what I wore, what I ate and who I saw.
OUTFITS:
First, I just want to talk about how major my nails were for Outside Lands. Hard to believe I haven't gotten acrylics since December! I wanted to take it back to the year 2003 and got a different color on every nail. No, the nail technician did not deny me, and yes, I did tip her well. Tbh won't be surprised if people start doing this now...
Okay, over my ego trip.
I was nervous I would be REALLY cold at OSL (see above), yet I wore dresses/skirts every day. Each of my outfits was complimented by my new leather jacket from Blank NYC (which I bought during the Nordstrom sale), my black leather mini backpack from Brandy Melville and my most favorite Ray Bans. Oh, and I made sure to finish with everyone's favorite accessory, the annual edition of the OSL blanket.
Friday:
Denim dress: Topshop
White top: Brandy Melville
Boots: Jeffrey Campbell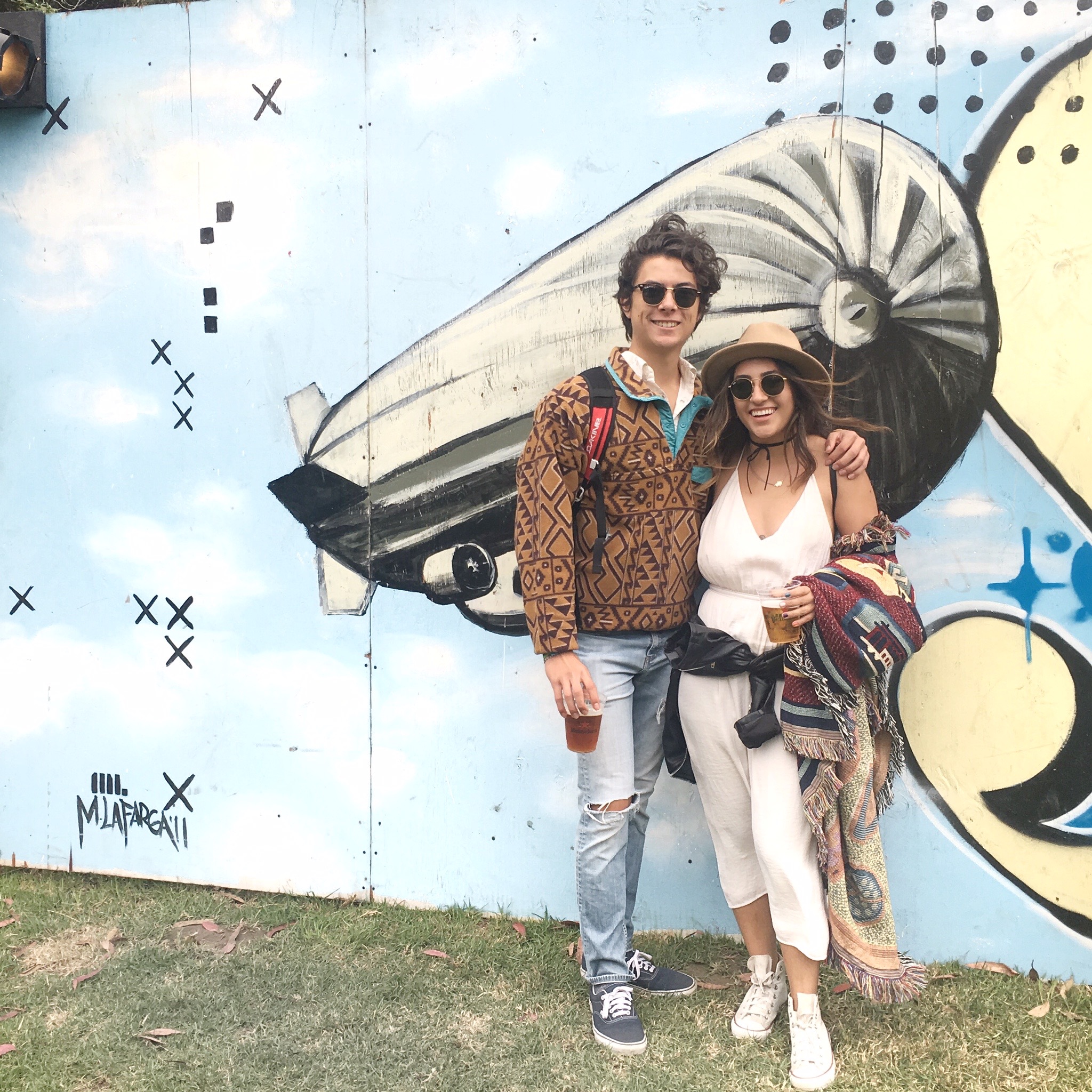 Saturday (or Haturday, if you will):
Dress: Urban Outfitters
Hat: Urban Outfitters
Choker: Brandy Melville
Shoes: Converse
Sunday:
Tank (formerly a t-shirt, but I cut it): RedBubble
Skirt: Urban Outfitters
Choker: Urban Outfitters
Shoes: Converse
Bandana: Datsik (lol)
FOOD:
My favorite part of any festival is really the food. OSL does an amazing job of bringing in the best of the best. Wish I had a chance to try more things, but I am very satisfied with what I ate. Pro tip: At festivals like OSL or Coachella, NEVER eat the same thing twice!
PERFORMANCES:
The lineup wasn't as stacked as I had wished, which has its pros and cons, but it was great to see some pf my favorites!
Friday:
Wet -- Good
Miike Snow -- Soooo good to finally see them! Wish they did more from the Miike Snow album, but you can't have it all
Grimes -- Definitely my favorite on Friday. I've been OBSESSED with her since I was 16, so I was immensely happy to finally see her live. She is UNREAL live, between singing live, dancing and doing all of the musical production, I was in complete awe. Plus, she has these incredible dancers
J. Cole -- Quite hype, and I was excited to hear some of my favorite songs by him
Saturday:
The Knocks -- Really fun set, got there late
Vince Staples -- Tha boyyyyyy. Haven't seen him live since like 2014, so it was good to see how his live set has changed. I think the crowd was only there to hear "Smoke & Retribution," but what can you so
Big Grams -- Pretty low-key set. Wish it was a little more intense, but again, I think everyone just went to hear Big Boi drop the Outkast tracks
Halsey -- Boring, not worth my time
Zedd -- Yes, I soldout and went to Zedd. I wish he played older songs like his deep cuts, but it's Zedd and he soldout so
Sunday:
Snakehips -- UNREALLLLLLL SET (until they played "All My Friends.) Definitely needed more speakers on cause their set was so dirty! Their song selection was so perfect, and I wish more people were into it
Third Eye Blind -- TBT to sophomore year of high school when I really loved them. The set was kind of bland, and my body was aching, so I just laid in the grass for most of it
Chance The Rapper -- I saw him two years ago and was not impressed at all. I'm not a huge Chance fan, but this was a pretty lit set. It just felt a little short
RÜFÜS DU SOL -- RDS has been one of my most favorite bands over the last year, and I was so excited to finally see them live. My friends were all RAVING about RDS at Coachella, so I was extra pumped. They performed on a small stage that most definitely did not have enough speakers nor was it loud even to begin. I loved every second of it, and wish we were a little closer. We had to leave early because OSL changed the schedule so that RDS overlapped with Major Lazer instead of Chance (I don't want to talk about it, I'm still hurt), so we had to leave when they started playing "You Were Right"
Major Lazer -- If you know anything about me, you can gladly assume this was my favorite set of the whole weekend. I was as happy as a peach, and I don't even know how else to describe it. It was also super nice that the sun was out during their set (and ended in a Magic Hour). I tell everyone that they MUST see Major Lazer live; I really do love Diplo but his solo shows do not even come close to those of Major Lazer. Ask anyone who saw them at OSL or who has seen them before, and they will agree that they put on one of the most incredible, spectacular live shows. Also, special thanks to Wes (aka #2 Dad) for putting me on his shoulders for a few songs, "Light It Up (Remix)" amongst them, it was a great moment in my life
Lana del Rey -- I have seen Lana perform live four times now, and I have to say that I think this was the best she has sounded. I think people can be underwhelmed by her live show, but I'm not sure what they were really expecting. I think it was a great show for her, yet I feel like every time I've seen her the setlist gets shorter and shorter
I am really glad I finally got to experience Outside Lands. I am also happy that I had an amazing crew (shoutouts Outside Fams: Lauren, Wes, Andrew, Peter and Jess) to frolic through Golden Gate Park with, who put up with me taking photos and videos of everything and nothing and letting me have my moment at Mmmmmmmajah Lazahhhh.
I will definitely return to Outside Lands. I put together a lil film of some highlights from the weekend for your viewing pleasure:
Matcha had me...regretting that deconstructed cobb salad, missing waking up in a bed full of ten people and craving endless amounts of frickles.