Well, ladiessssss, it's almost that time of the year! It's so crazy how quickly it's come around, but we are only days away from the biggest weekend of the year! That's right! Coachella Valley Music and Arts Festival is right around the corner…
If this doesn't hype you up, I don't know what will! This is definitely the best video they've done since 2014.
I must admit I was a bit apprehensive about Coachella this year. Last year's lineup was unbelievable, and there's no way this year could beat it. When I saw how high the ticket price had gotten back in June during presale, I of course rolled my eyes. And on that Tuesday afternoon in January when the lineup dropped, I could not have been more displeased. However, there were still a handful of acts I was excited about. I also learned from Outside Lands last year that sometimes you have to go first for the experience and second for the music. If music is as important to you as it is to me, it's hard to let the music take the back seat. I also discovered a number of people from high school, who I never thought I would (or wanted to) see again, were attending. Not to mention the drastic Sahara tent changes! I knew it was going to be a lot different this year.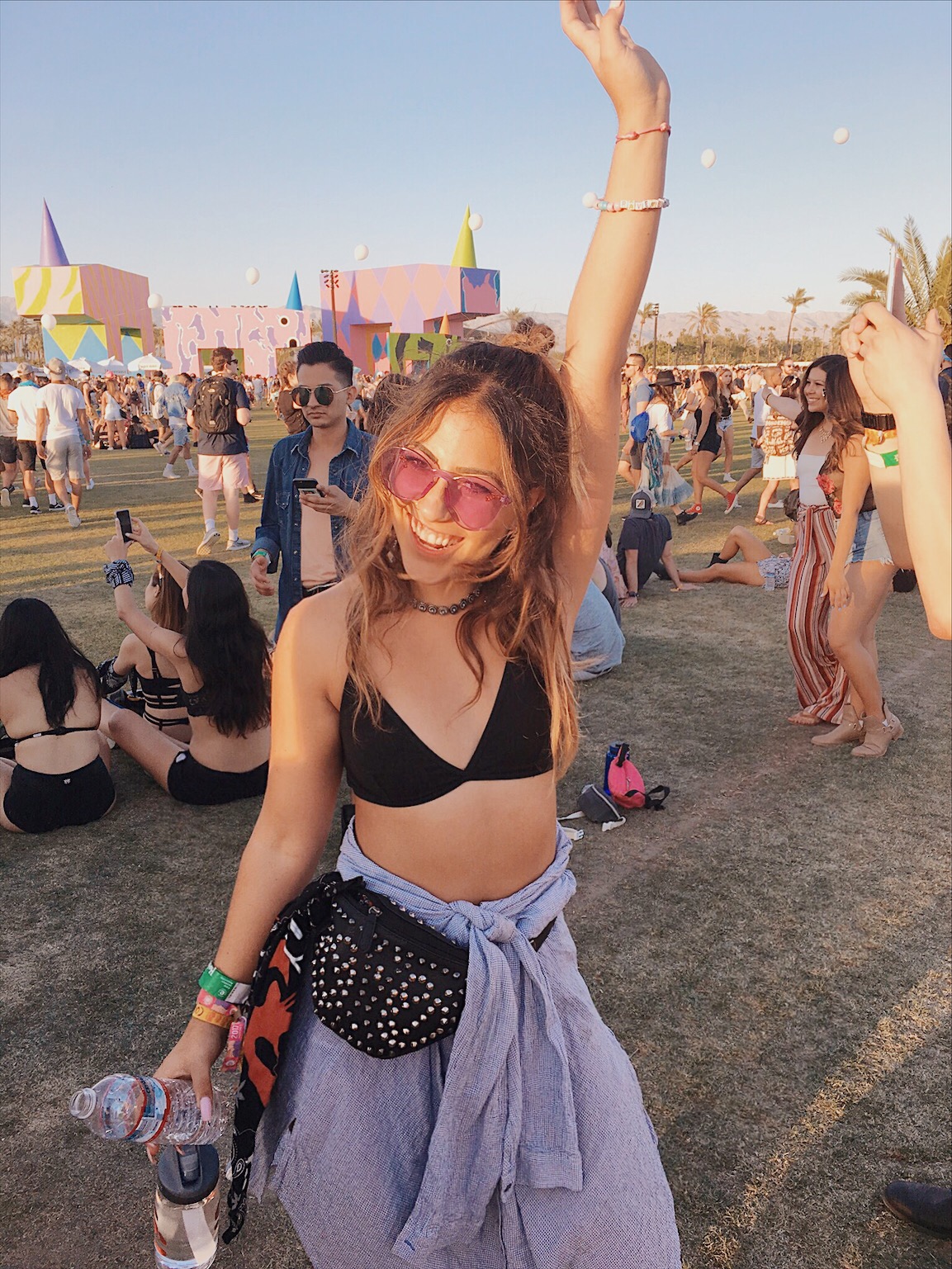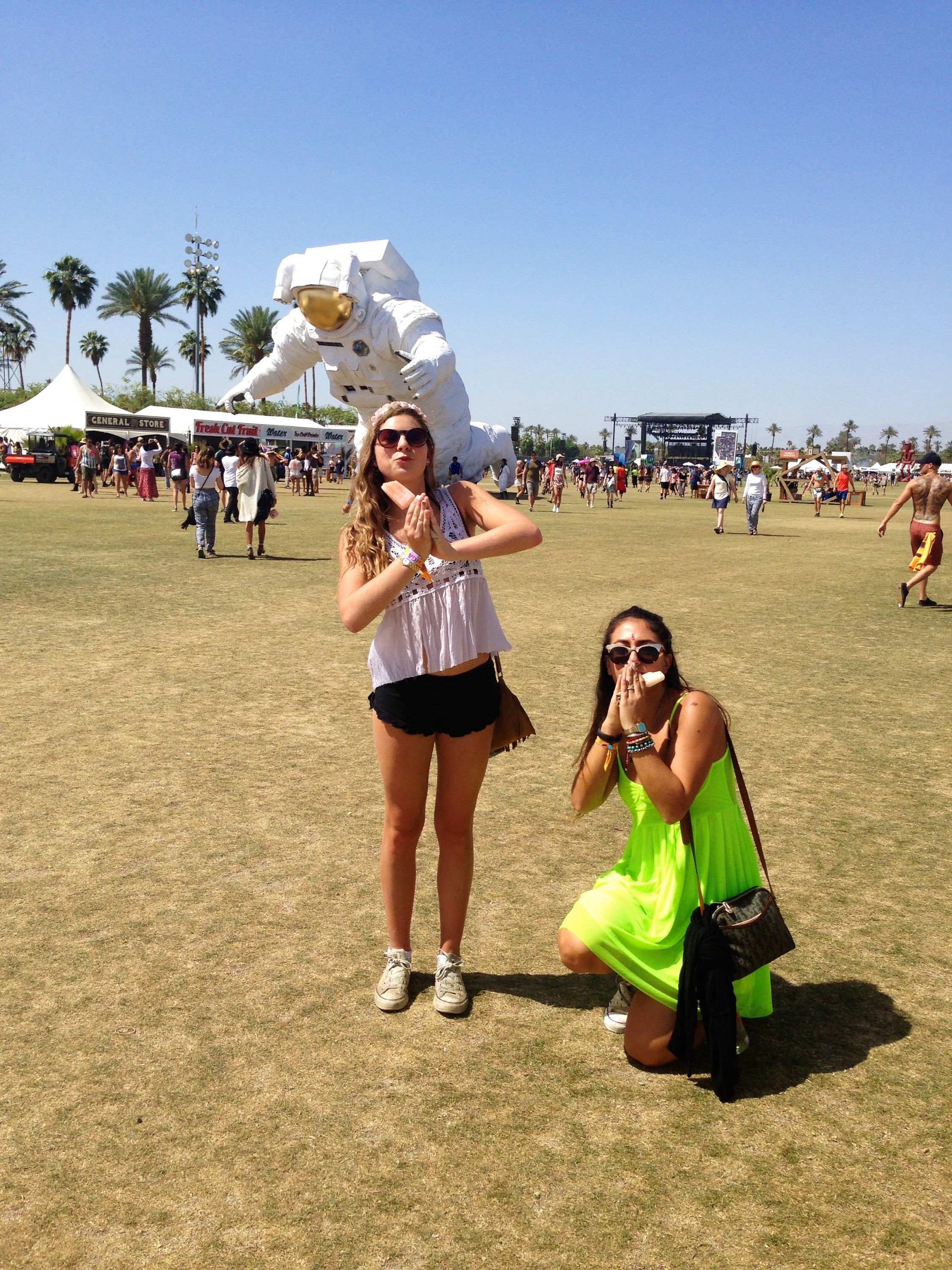 So, are you ready? Have you sold your shuttle pass? Do you have your lewk bewk curated? Did you backup your phone and turn on Find My iPhone? How many days in a row have you told yourself "the Coachella diet starts tomorrow!"?
Luckily, as I venture back to the Desert Cities for my fourth year at Coachella, I finally feel like I've gotten my rhythm down. Maybe it's having been before and feeling like a veteran, maybe it's because I'm older or maybe it's because after attending seven festivals (including two weekends at Coachella) last year I've learned how best to fest, as the kids say. This includes clear packing lists, recovery remedies, precautions, etc.
I've done guides in the past (both in 2016 and 2017) as well as a review last year, so this year I wanted to be a bit more brief and focus on what I the tried-and-true, most essential advice. So sit back, throw on that flower crown or floppy hat and start getting hydrated cause it's Coachella season, baby!
I've never been before! What should I expect?
Get ready for a lot of fun, and a lot of recovery after. As is with most festivals, you're going to be standing, walking, moving and (if you're plur like me) moshing for quite a few hours in the hot sun. I recommend lots of hydrating and don't forget your sunblock! No one wants to be peeling during prime profile picture content curation! Kidding, but you'll thank me later.
You're definitely not going to be able to see every single act you want to, and it's going to be tough to meet up with friends. I'm not sure if the universe was working in my favor or if my friends and I just got our shit together, but I found it easier last year than in years past to meet up with friends. Don't stress yourself out too much! Also, coordinate a clear meeting spot to meet up with your group at the end of each day, like certain year lineup totems at the front gates.
At the end of the day, it's Coachella! Let go of the outside world for the next three days. It only comes once a year, so try to make the best of it. Keep your spirits high and your expectations low because the best happens when you least expect it.
What are your best tips?
Comfort is key. Whether it's ditching those cute sandals you just got or choosing a fanny pack instead of a cross-body bag, I always try to travel light and comfortably. The best thing you can do is wear sneakers.
Write down the set times on your phone of the acts you're interested in seeing (with stages!) and set it as your background. You can also probably dig around Reddit or Twitter for a phone background version of the schedule. This way, it's right there in front of you and you'll know exactly where to go and when.
Do not try to do every single thing nor see every single artist. Some of my best moments from Coachella are just from roaming the polo fields or grabbing a drink in the beer gardens. Definitely do try to make it to every stage at some point, especially the Do LaB at night (they always have special guests and it's usually empty, unless the guest is Skrillex. I saw Rufus du Sol do a guest DJ set there last year and it was the perfect amount of people with the right amount of dancing room) or the Yuma Tent (my personal favorite because it's enclosed with A/C, couches and a bar). Some of my favorite sets haven't been from the Coachella Stage nor Outdoor Theater.
It's okay not to be in the front or fight your way up there for every set. As I've gotten older, I've enjoyed having a little more room to dance and breathe. Last year at DJ Snake during W1, my friends and I stood towards the back of the field and blocked off a section just for ourselves. We all dumped our bags in the middle and just danced around and had so much fun. A day later, I found my friends eagerly trying to get as close to the front as possible during Lorde so they were right up in it for Kendrick. Since I wasn't staying for his cultural appropriation, I was getting annoyed because I wanted to chill and SBC cry to Lorde.
Take it easy. Don't overdo your lewks, make sure to drink water, don't beat yourself up if you never got to take your watermelon picture. It's a goddamn festival. Just vibe.
What are you wearing?
For the first time ever, I finished all my lewks A WHOLE MONTH BEFORE COACHELLA!!!! Miracle Month IS real!!!!!
Day 2 W1 in 2014, Day 2 W2 in 2017, Day 3 W! in 2017
I like to keep my lewks pretty underwraps until the festival. With that said, I'm going for three very different lewks this year. I'll be wearing Converse high tops and my black studded fanny pack every day. You already know I've been trying to get some of the freshest shades, and I'm going to try to mix it up a little more with my hair and makeup.
There are definitely trends I think will be popular this year; take this as you want if you've already packed or not. I am predicting a lot of roses, checkers, LEMONS, camo and polka dots for patterns. I think a lot of people will go for mismatched patterns (a favorite trend of mine right now), and I believe we will see a lot more people in pants than in other years. I'm sure we will see lots of skinny glasses and mini backpacks.
Please don't wear a Beyoncé shirt on Saturday because you just loveeeee herrrrrr and think Lemonade wasss likeeee sooooo amazingggggg cause she's like sooooo beautifullllll. Real fans ONLY for her and beyond.
Who are you seeing?
The lineup was less than impressive to me. I'm glad I'll get to see some of my favorite artists and check out a few new ones. However, Selloutchella has never been more real than now. Coachella is supposed to be a frontrunner in lineups. You're supposed to be seeing people who will appear on the rest of the circuit this coming year, NOT in the past year. If this trend continues, my appearances at this festival will be cut short.
With that said, here are the sets each day I will 100p be at (you can also check out my Instagram for more details each day of Coachella):
The Weeknd

SZA

Alison Wonderland

Elohim

Kali Uchis

Troyboi
Saturday
Beyoncé

Brockhampton

Alina Baraz

Ekali

Party Favor

Kittens
Sunday
Barclay Crenshaw

6LACK

San Holo

Petit Biscuit

French Montana

Cardi B
I'm also really excited to catch some Do LaB sets like DROELOE and Chris Lake, and I'm super stoked to see who their surprise guests are each day. Definitely keep tabs on social media in the early evening (or have a friend text you if they see anything).
Anything else?
All SBC aside, I'm excited to be back in the desert. I can't wait to see who all the special guests will be (if there are any, smdh). Whatever happens with the music, I'm looking forward to frolicking in the polo fields with my friends. I'm getting some content ideas flowing. I'm putting myself on vocal rest because my voice is already shot after my birthday.
I'll be back with a recap the week after W1 highlighting all the ups and downs of the weekend along with a video, of course. Until then, good luck to everyone heading to Indio for the first time. Catch me on the polo fields, kids!
matcha had me...fighting through fest voice, breaking necks while throwing 'bows and crying because I won't be able to eat gluten-loaded milk bar truffles.