Please note that Vimeo picked this as the cover frame without my choosing. Talent won.
----
***All photos (minus lewks and h-scroll at the very end) were all taken on Fujifilm disposable cameras***
The last few years of Coachella have been untoppable, and when the 2018 lineup first dropped I was expecting to be disappointed this year. But I'll admit, my anticipation for Coachella grew day by day as we approached our exodus to Indio. My excitement grew tenfold when I received a text from my friend, Brendan, on the Wednesday before Weekend One (see right). I had a feeling that RL Grime would perform this year, which was why I was also crushed when I originally saw the lineup. But just like I had called that Gaga would headline last year after Beyonce cancelled, I knew the universe was working in my favor again. (More to come on Henry smashing the Do LaB!)
I flew down with Camille, and we were picked up by Jenny and Jackson in Long Beach before venturing out east. I had a cold brew before our flight, which was interesting for my flight anxiety and then the ride to Indio. You should ask my friends about my energy levels for those next few hours, lmao. Of course, we stopped at In N Out, sang along to every song that came on shuffle and discussed which acts we were most excited for. The drives to festivals are always so much fun, and the one to Indio still is my favorite. Unfortunately, because we had driven out on Thursday night, it was dark outside, so we didn't get to see the infamous windmills (sad!!!!), and the artist billboards were barely visible. With that said, we still got to Indio pretty quickly and safely (s/o my parents for keeping tabs!)
We had a few really awesome moments throughout the weekend. First, the weather! For the first time in my Coachella tenure, the weather was bearable and definitely not too hot. I was nervous on Friday when we were dying from the heat before going into the Heineken House tent because the weather said the temperatures would rise from each day to the next. The festival gods were really looking out for us (and Apple Weather failed me again!) Second, THE NEW SAHARA TENT OMG!!!!! I was definitely skeptical after reading about the changes to Sahara, but after sprinting over to catch Whethan upon entering on Friday, I knew it was a game changer. Rather than the traditional set-up along the far side of the tent, the stage was placed along the horizontal wall of the tent, allowing airflow along the stage and a wider viewing range from either side. TLDR: it was more spacious, easier to get in and out of and find people in, closer to water and bathroom and not a fkkking sauna. I also had never been in the Heineken House before this year, but I finally got to stop in when we went to see Quix on Friday afternoon. I'm super bummed we didn't make it back the rest of the weekend, but there's always Outside Lands for that. Additionally, BLESS being 21 because each beer garden had accessible wifi.
As is with every festival, there were some things I didn't like. I felt like there were almost no options for gluten free gyals like me. Someone told me I could find better options by selecting the GF filter in the app, but that seemed like too much work and would also drain my battery. Jackson joked, "It's so funny all we ever talk about is the food [at Coachella], and all I've eaten all weekend is pizza slices" -- this was me except with fruit cups. My plan was to break GF during Coachella, but after a mishap with a burger a few months ago, I was worried that it would wreck my system. With the move of Sahara, the Gobi and Mojave tents moved too. This made it hard to get everywhere. I don't even think I made it to Mojave throughout the weekendt. I thought the new food deck, Indio Central Market, was cute and a good idea, but you can tell how much they're trying to grow the festival. Finally, I was most underwhelmed by the lewks at Coachella. I was like if I see one more girl in denim shorts and a lace top or a guy in khaki shorts and a floral button down, I'm gonna jump off the top of the ferris wheel. Coachella is supposed to be the frontrunner in festival fashion, but this year didn't live up to the legacy.
Lewks
For my lewks, I wanted to make sure I had three different shmoods and was buying from places most Coachella-goers wouldn't shop at to avoid anyone having the same lewks (just ask Camille! jkjk). I'm happy with the lewks I came up with, and I'm especially proud that I had it figured out over a month before the festival.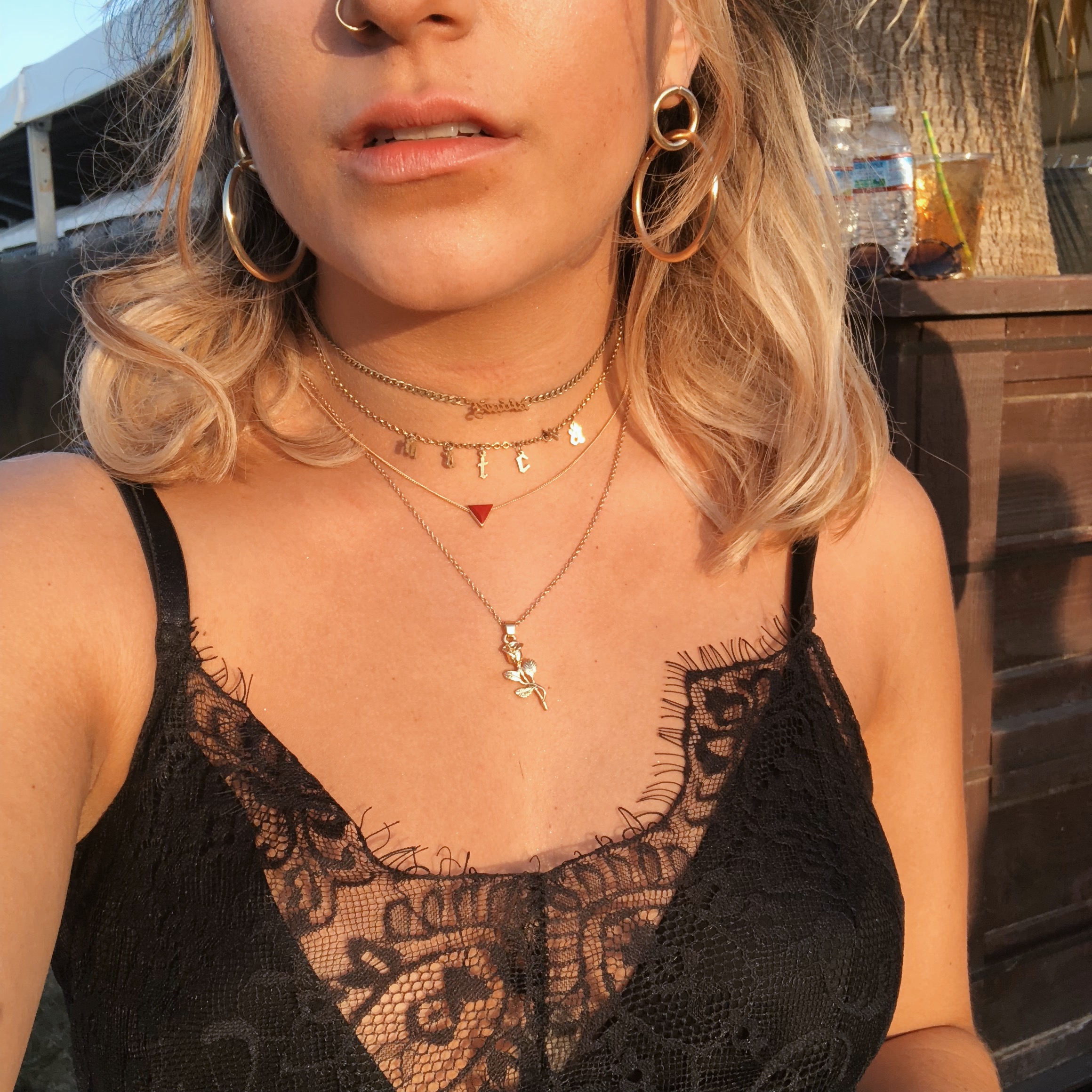 I'm really obsessed with this lace lewk. I was first inspired after seeing Leandra Cohen of Man Repeller in something similar, so when I saw this dress on Motel Rocks during Cyber Monday, I knew I had to have it. I paired it with the same bra and bottoms I wore under my mesh lewk for Bonnaroo last year, as well as my Converse, studded fanny pack, a stack of gold necklaces and my $2.39 Walmart earrings. Jenny braided my hair into mini buns, and I curled the bottom. For makeup, I used the Make Up For Ever Aqua XL Color Paint Shadow in Matte Red. on the top in a cateye I perfected with the help of some Scotch tape and Lemonhead's Spacepaste in Muholland on the bottom waterline.
The dress I wore on Saturday was from ASOS. I really wanted to take a "clubby" dress and dress it down, which I was able to do with my studded fanny pack and red Converse, hat and sunglasses. I didn't realize when I ordered the dress that the leopard print would be velvet nor that it would be BLUE!!! Super cool, right? Sadly, the blue didn't photograph well, but I will definitely wear the dress again. I threw biker shorts on under so I was able to move comfortably without worrying if I would flash anyone. I curled my hair (which was like five days out from a wash so it was perfectly dirty) and covered my undereyes with a couple different Lemonhead glitters (Beyoncé also wore Lemonhead at Coachella -- my impact!).
I always feel like I put on my laziest outfits on Sunday. In 2014, I wore a neon dress my friend was against me wearing, but I am sad to this day that I got rid of it cause it was such a lewk. Last year, I closed W2 with a super cute lewk, too. So this year, I wanted to wear the outfit I was most excited about on Sunday, which was a red and white-striped two piece from ASOS. I was never into wearing pants to Coachella because of the heat, but after rocking pants to W1 AND W2 last year, I knew it would be manageable. The pants were satin-y and super breezy. I threw on some red Converse and another pair of $2.39 Walmart earrings, and I also borrowed Jenny's sunglasses and glitter backpack. I had Jenny French braid my hair and then we took the Lemonhead glitters and did a glitter part in my hair (and yes, I still have some remains in my roots). Also, I had the pants hemmed to my height and then altered to give more of a bellbottom-y look to it, since I'm a thicc chick and these were designed for toothpicks.
Music
We were able to see a ton of acts, but I definitely missed people I was really excited to see, like Elohim, MØ, Ekali, TroyBoi, Brockhampton, SZA, Barclay Crenshaw, etc. That said, here were my favorite acts:
Miguel

Petit Biscuit

Cardi B

The Weeknd (special shoutout because he played MY FAVORITE SONG)

Louis the Child

Kali Uchis (SWOON)

A smidge of Alina Baraz

Another smidge of MØ

More smidge of DROELOE

A final smidge of Chris Lake (and by this I mean we heard him playing "I Want U" while passing thru)

Deorro (actually pretty fun)

Whethan

Party Favor (supaaaaa fun)

French Montana

Eminem
Kewwwwwt portraits of my friends
I definitely wouldn't say this was my favorite year at Coachella, but I still had a ton of fun. It's just great to disconnect (well, I mean this by leaving my work phone at home and laptop at work) for a few days and just enjoy a few days with your best friends. Maybe it's my elderly age (lol), the number of Indio excursions I've embarked on to date or a stamina level nowhere near what I had in the good ol' days,, but by the end of the weekend I was pleased with my time in the polo fields. Cheers to another amazing year, and see you in 2019! Next stop, Manchester!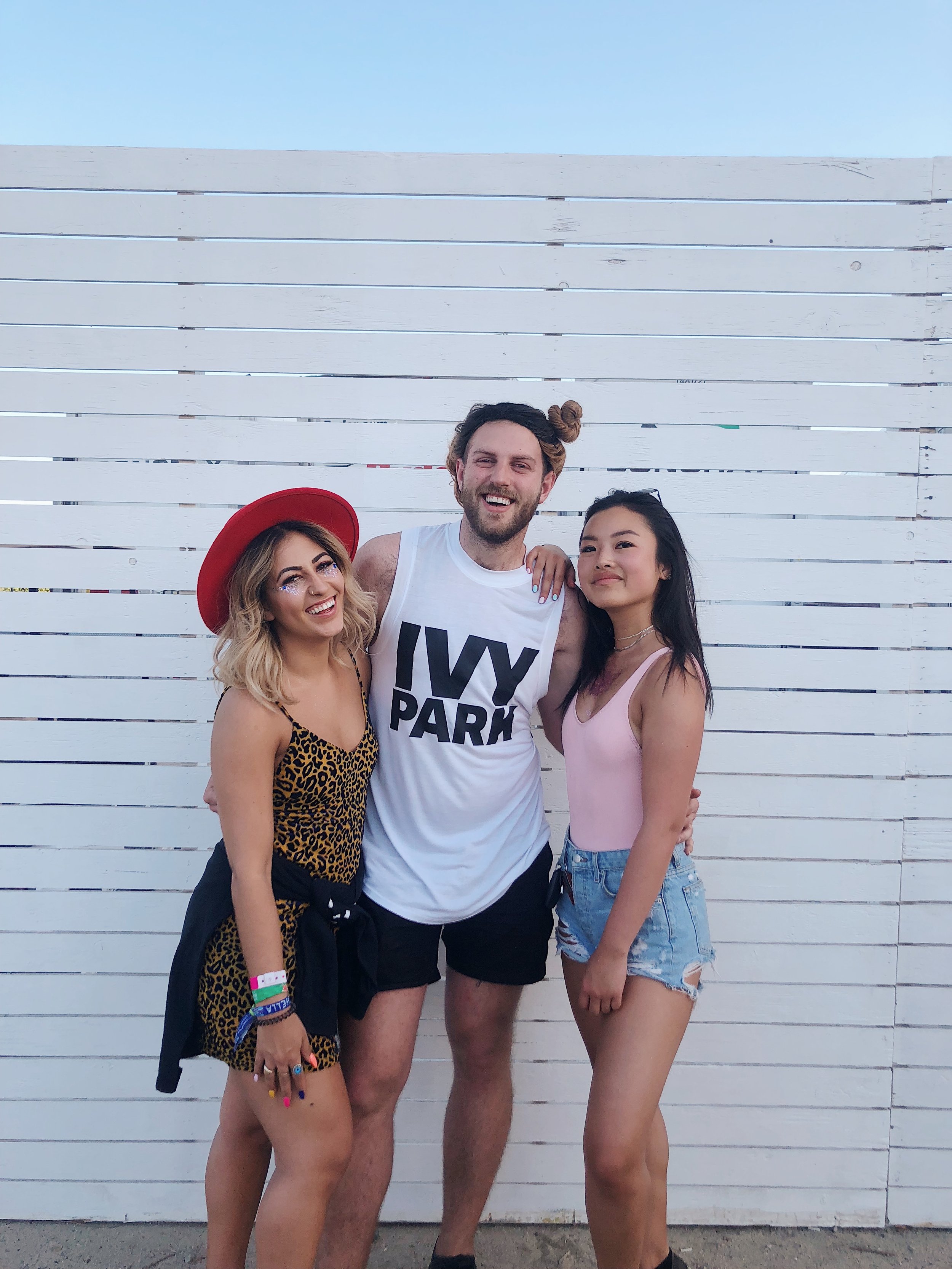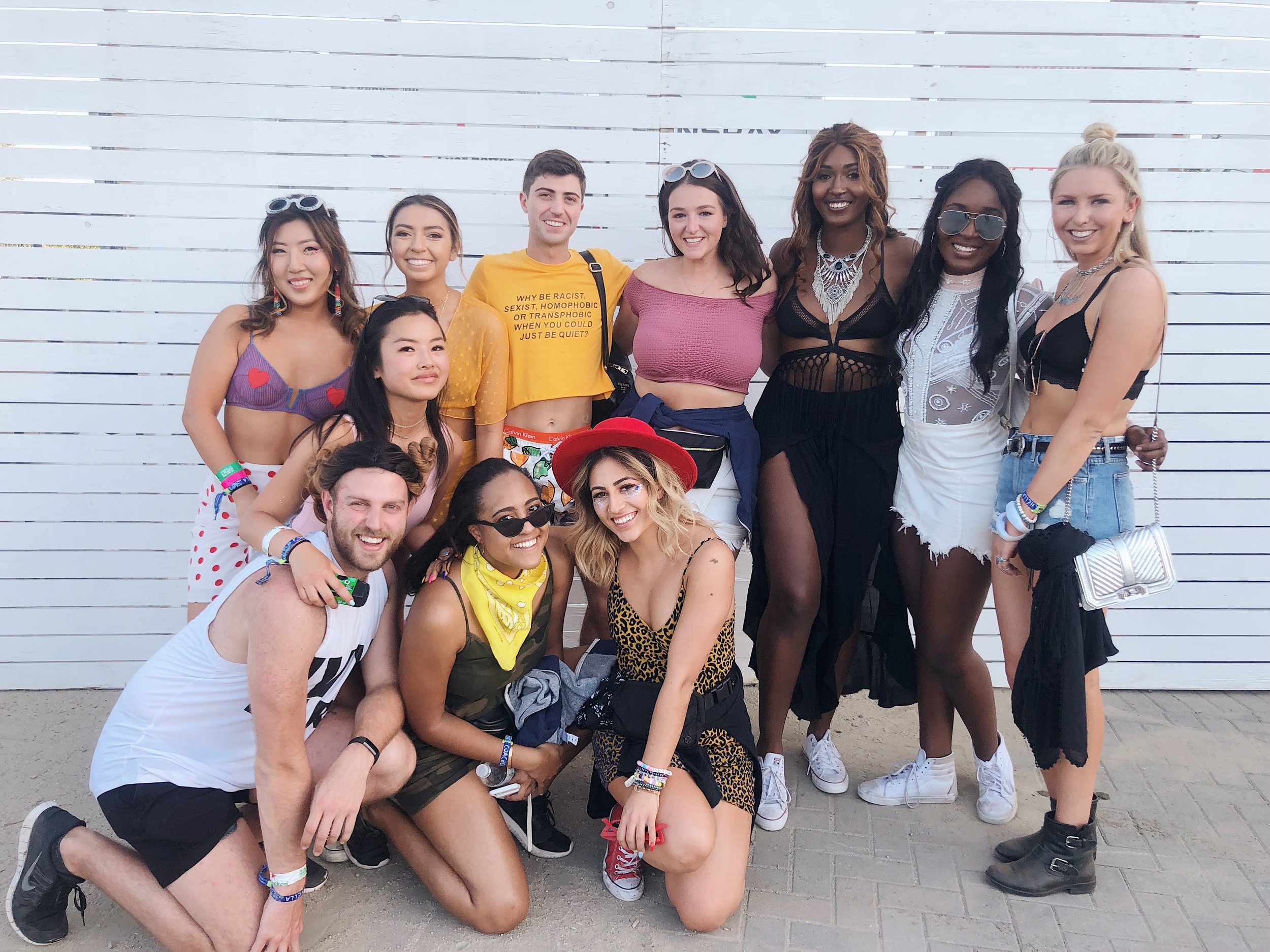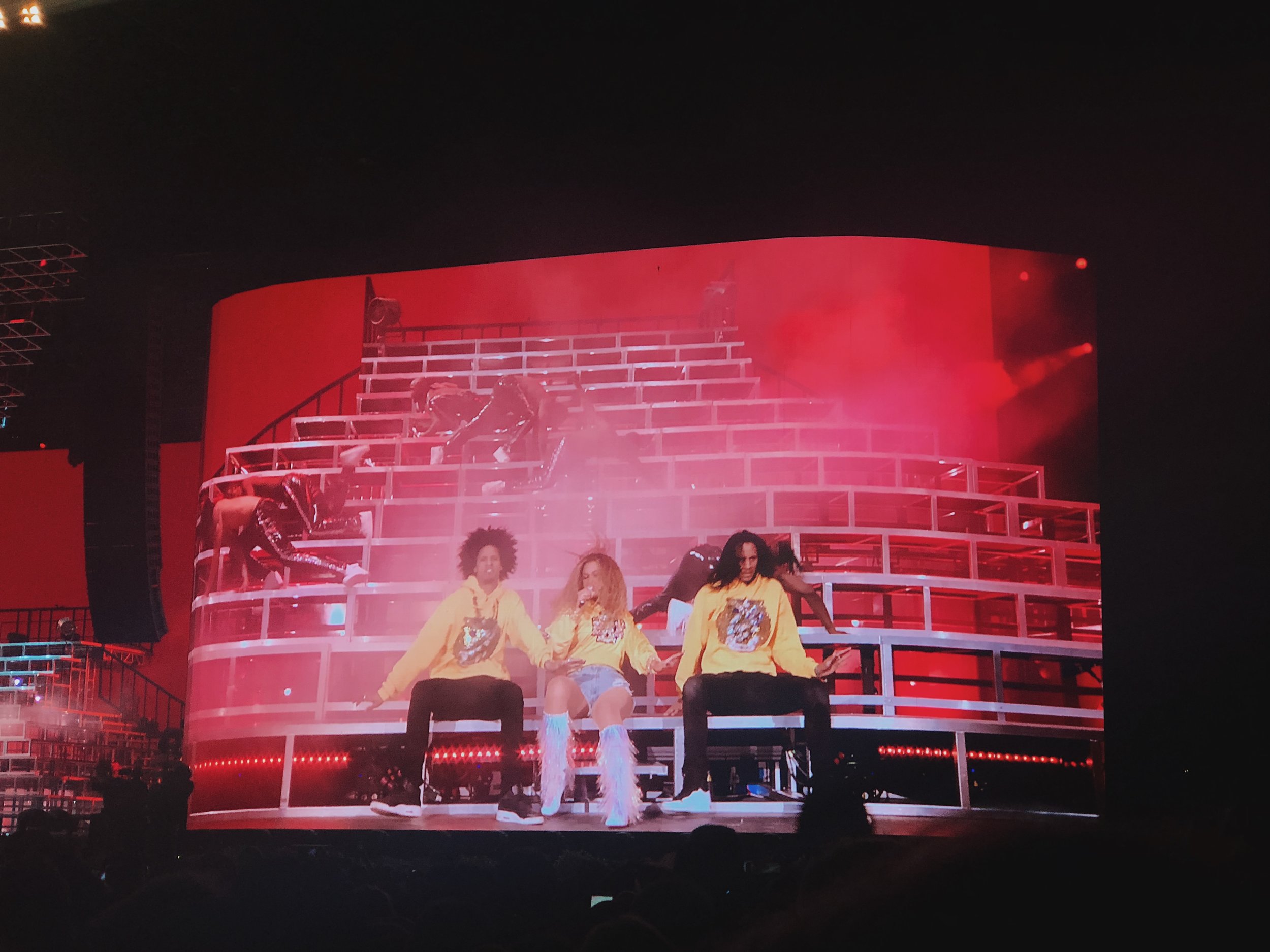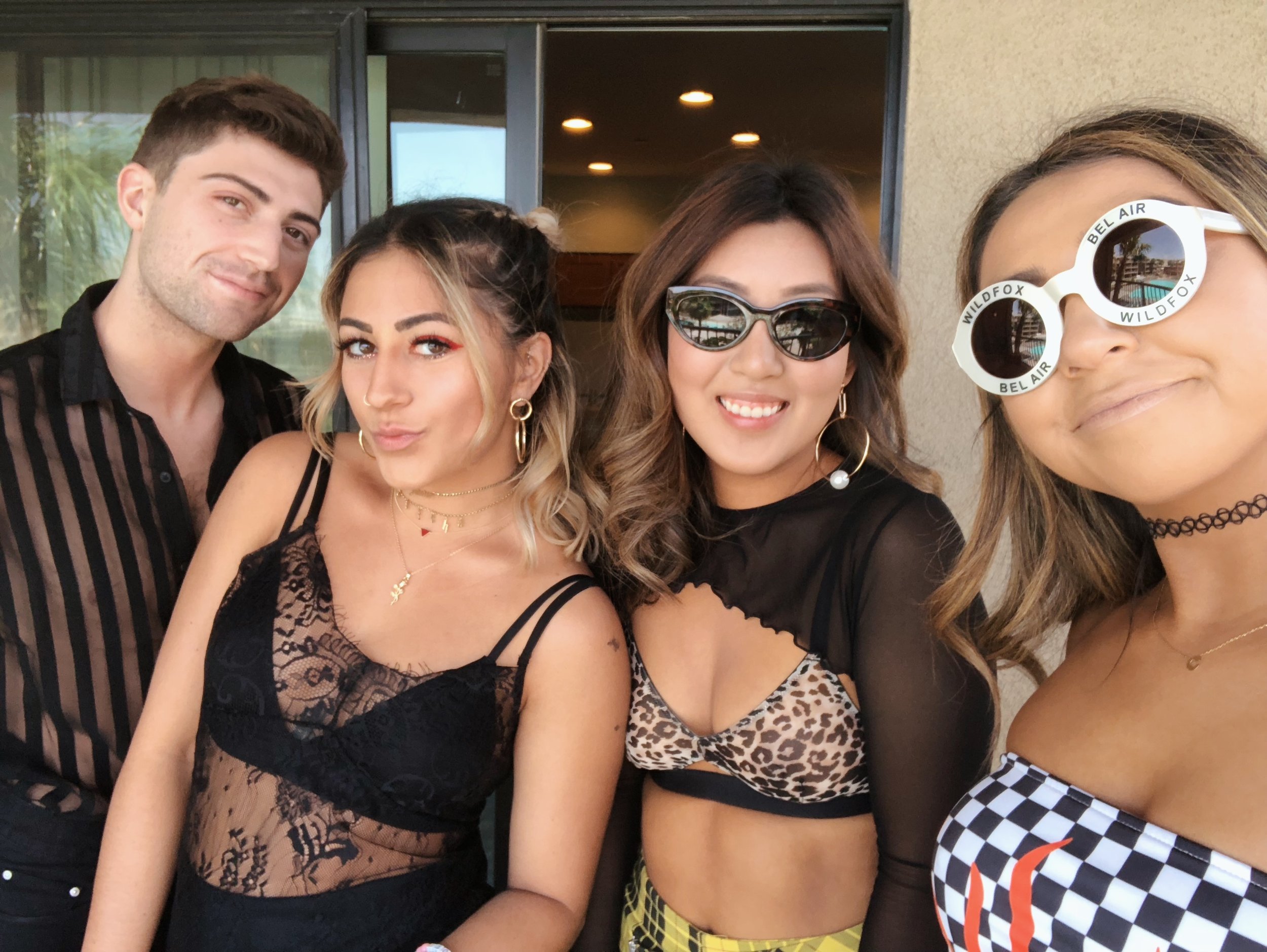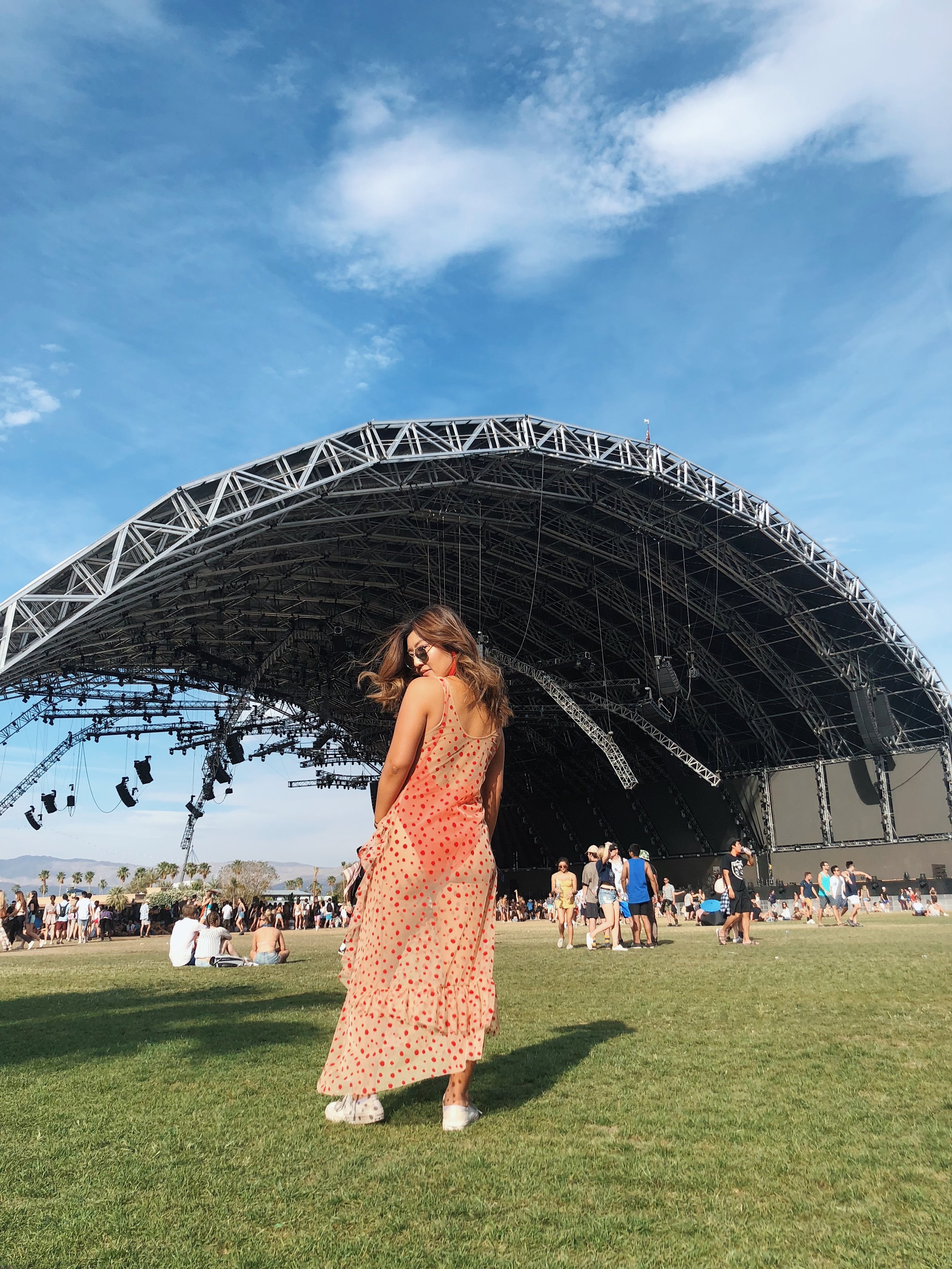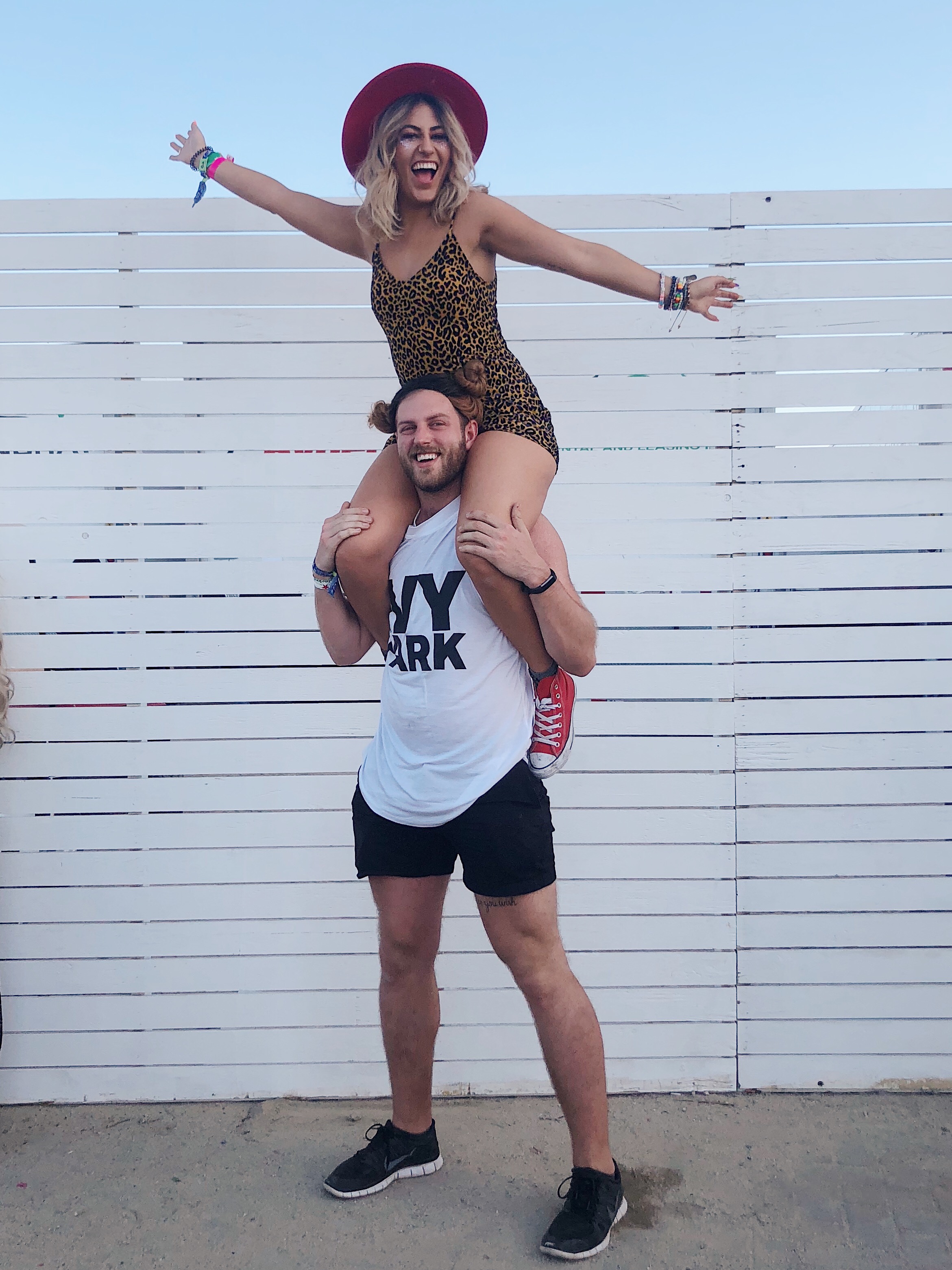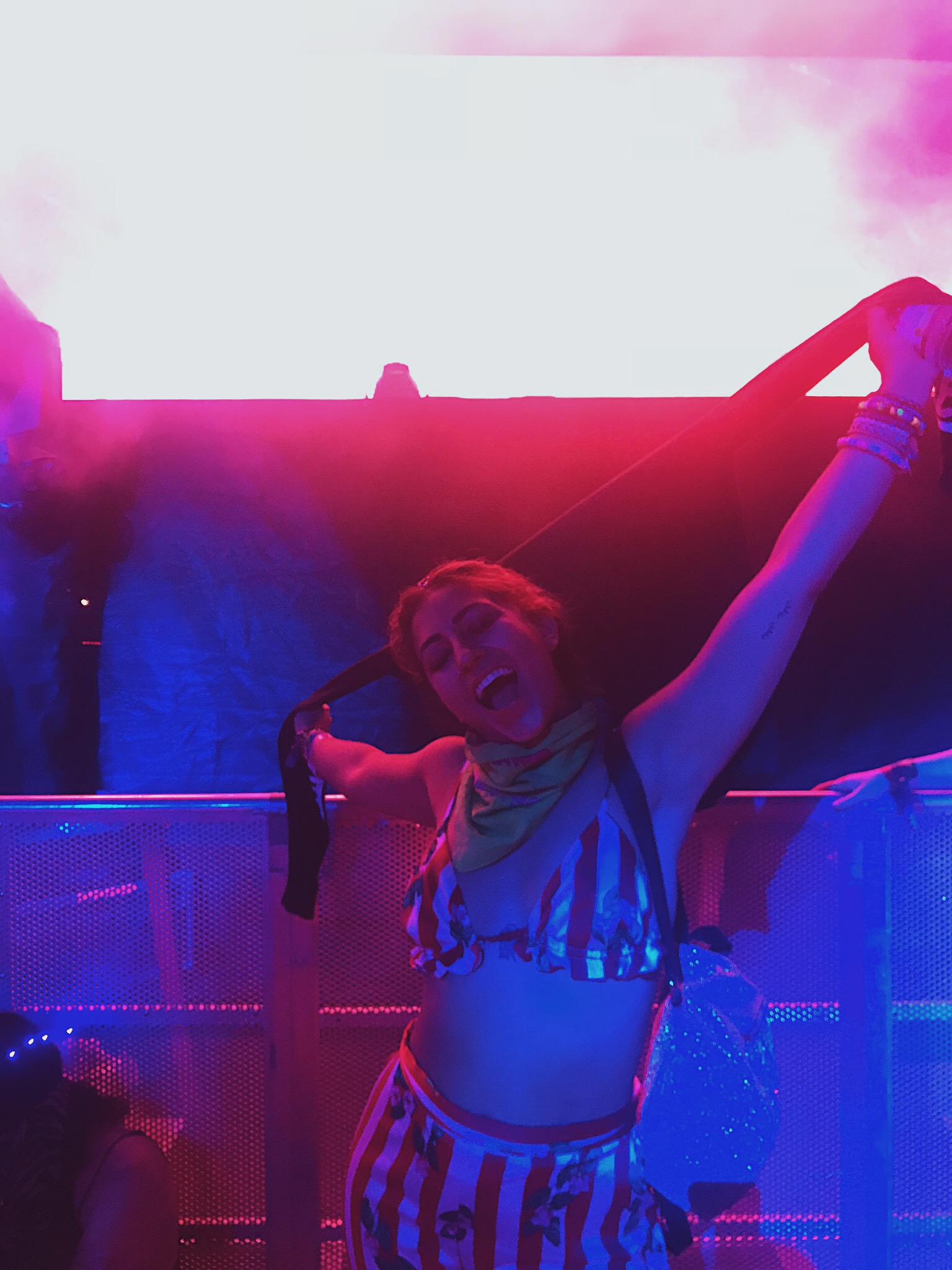 Matcha had me...trying to catch up on sleep, still removing glitter from my body and planning my 2019 lewks.