Well, it's almost that time of the year. Me and 90,000 of my closest friends will take the pilgrimage to Indio and the Empire Polo Fields for the annual Coachella Valley Art and Music Festival. In my self goal to ball out during my senior year, I will going to both — read em, TWO — weekends this year. I figured since I missed last year and since I probably won't be able to do this again, it was 2017 or never. And in case I didn't think I was going to be dead enough after two weekends of Coachella, I decided to go to Vegas back-to-back weekends leading up to Coachella Weekend 1. Oh, and now me and my friends are going back to Indio on Tuesday for the day to be extras in Gaga's new film, "A Star is Born."
I wrote a lil something last year as I prepared for one of the hardest weekends of my life. It's a hard knock life when you have to watch all the fun via Snapchat and Instagram from your flat in London. I did, however, try to watch a bunch of sets online (i.e. Major Lazer, RL Grime, Flume, Calvin Harris, etc.). While I did make it to my first Outside Lands last year (also can we talk about how terrible the lineup is this year??), nothing compares to Coachella.
I could not be more excited for Coachella this year. I had decided to go both weekends at the end of last summer, but after Beyoncé was out and my queen, Lady Gaga, in case you forgot, was in, I made certain that both weekends were going to happen. I cannot wait to be back!
HEREEEEEE WE GOOOOO!!!!
Also, here's a playlist I made for your journey to Indio (Please note it's not a Coachella artist-only playlist):
TIPS
For first-timers or seasoned vets, here are some good things to keep in mind:
STAY HYDRATED — It is FRIGGIN hot during the day (and cold at night, more to come on this). Do yourself a favor and bring a reusable water bottle. You will thank me later.
TRY ALL THE FOOD — or as much as you can. I love food at festivals and try to never eat the same things twice. Coachella kills it every year with the food and this year will be no different.
PICK A MEETING PLACE FOR THE END OF THE DAY — I would recommend something kinda open and near the gates right before you walk out of the grounds. There is probably nothing worse than getting split up from your group with a dead phone. And on that note…
MAKE SURE YOUR PHONE CAN'T DIE — Make the investment for a Mophie or rechargeable case for you phone and throw an extra charger in your bag.
USE INSTALLATIONS AS MEETING PLACES — If you're trying to meet up with different people for sets or maybe just to grab a drink, installations are definitely the place to do that.
SAVE SET TIMES ON YOUR PHONE — Or you can get a program booklet at the front. This way, you're ready for everyone. Also, plan out who you want to see beforehand and talk to your friends so you can LU as best as possible.
DOWNLOAD THE COACHELLA APP — Besides set times, you can make your own lineups, get alerts if there are sandstorms (they suck) or if there might be special appearances at The Do Lab.
DO NOT TRY TO SEE EVERYONE — You're not going to be able to see everyone you want to, and if you do, I applaud you. Take more time at some sets. One thing Coachella has really taught me was sacrifice, so now is a good time to learn that.
TURN ON FIND MY IPHONE (if you have an iPhone) AND BACK YOUR PHONE UP BEFORE YOU LEAVE — Don't be an idiot like me and lose your phone you haven't backed up for a few months (except I got lucky and got it back)
HAVE FUN — It's Coachella. Don't stress and just enjoy!
CLOTHES
I decided to keep my Lewk Bewk for Coachella pretty lowkey this year as to prevent everyone bitin' off my steez. Not to worry though, I will keep everyone updated on my Instagram and will post a riveting review of my weekends when I return after W2.
I like stepping a little out of the box/my comfort zone for festival wear. Everyone is going to be doing the most, so why not be a little extra? It is Coachella, for Godga's sake. This is a prime time to do something a bit unconventional for you.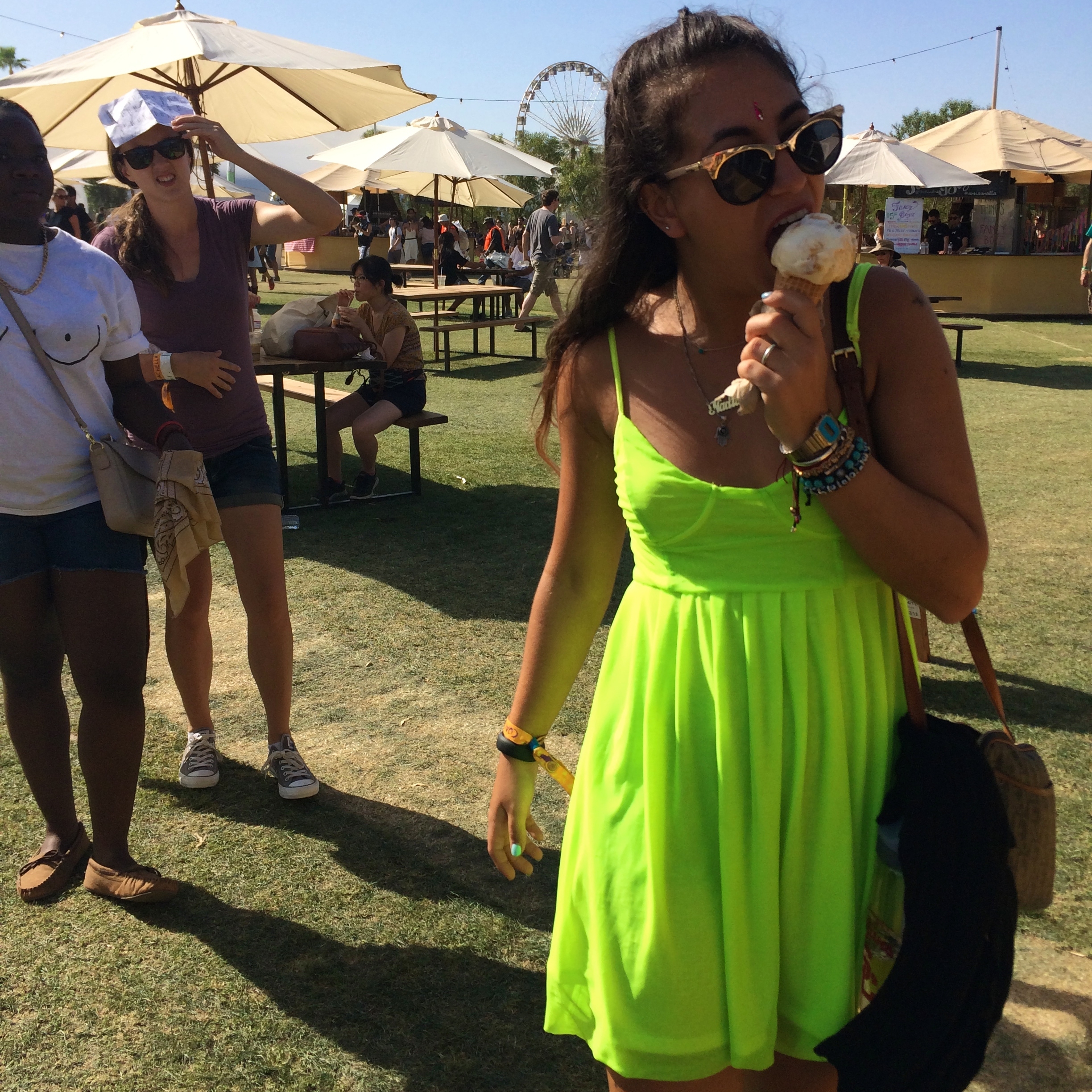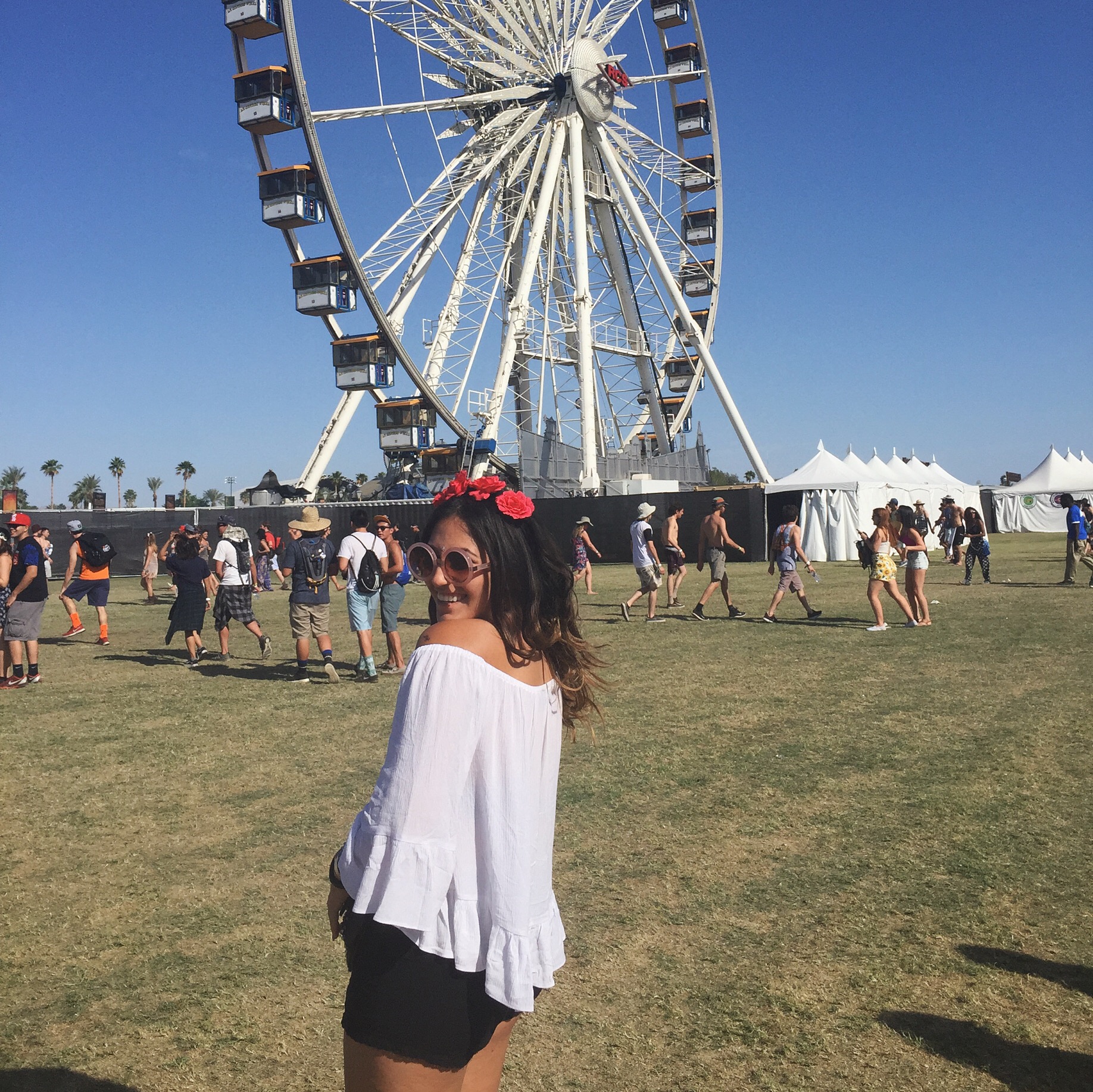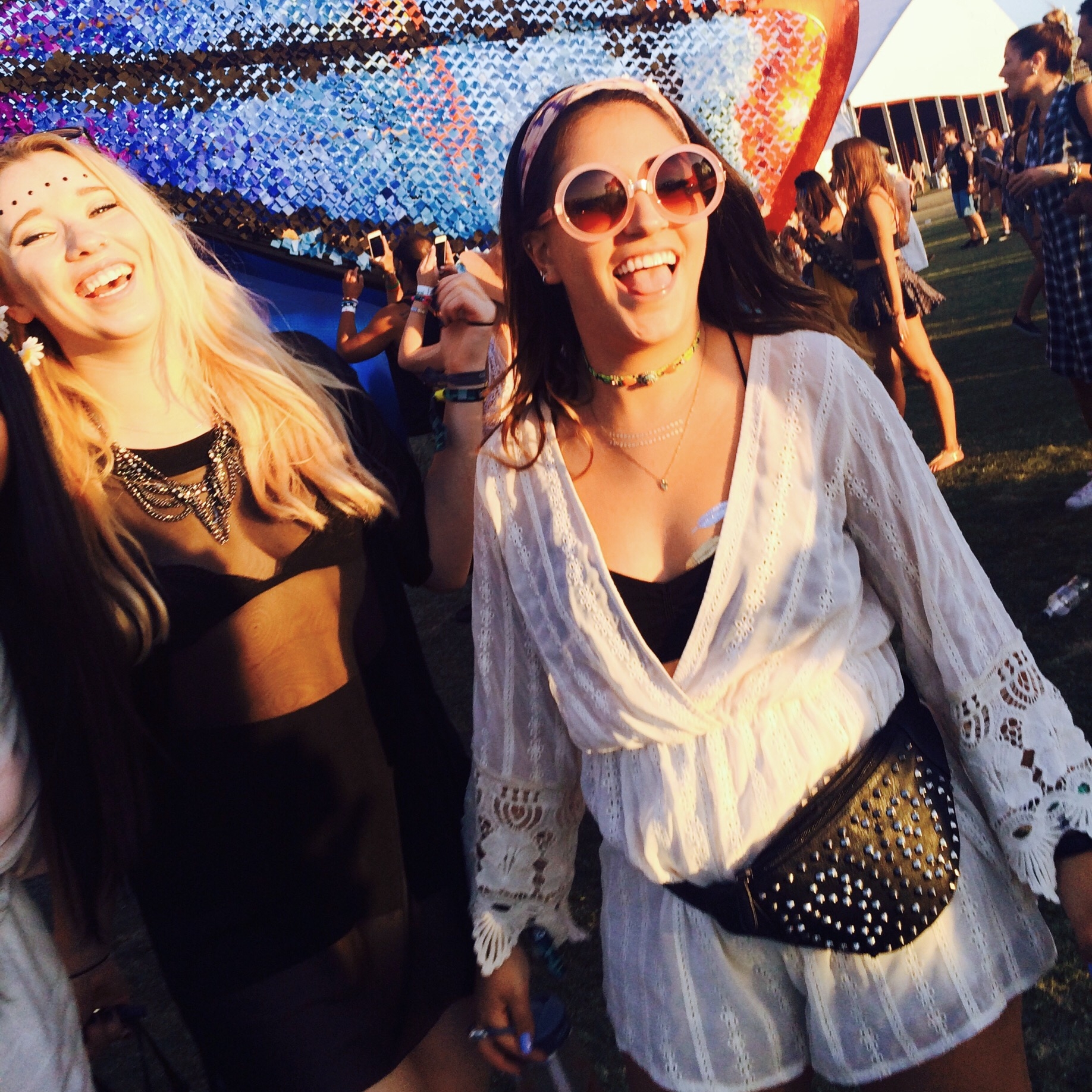 Here's what not to forget:
Day-to-Night Outfits
It's really hot during the day and cold at night (see #1 above). Bring! Layers! It is definitely worth bringing an extra shirt or something to throw over yourself at night or you can buy a hoodie or something there. (Which reminds me, I wonder what Gaga's merch will look like). Also for da ladies out there, throw on a cute bralette or bikini top under tops (unless you're going braless — power to ya) in case you get toasty (and sweaty) during the day.
Travel Light
Don't wear anything with tooooo many elements (I'm all about being extra, just wait), but there is nothing worse than lugging all you stuff around all day or losing things. When it comes to a bag, I would highly recommend a fanny pak or small bag. I prefer the fanny pack because it's small and is right on you the whole time.
Bandana
It gets windy and dusty and sandy, so help yourself and your lungs. It will definitely help, a lot.
Comfortable Shoes
Yeah, those new sandals are super cute, but your feet won't be if you wear them all weekend. If you're like me and have to be all up in the crowds/decide it's a smart idea to mosh, then you definitely need to be smart here.
Sunglasses
It's sunny, so don't be an idiot.
MUSIC
Obviously, the main point of the festival is the music. I'm super nervous about settimes becausethere are a ton of acts I want to try to catch. Also, there are a lot of artists this year that I've never seen live before, so I could not be more ready to hit the polo fields.
Make sure to look out for settimes, so you can best plan who you're going to see! I'm assuming they'll come out the Tuesdays before. Also, you can download the app and personalize your lineup so you can see your artists on one schedule!
MUST WATCH
These are the acts I will 100p have to see and would highly recommend to anyone.
Friday
The xx
The xx is probably in the top 5 artists I am most excited to see at Coachella. I became obsessed with the group when I was about 17, and I could not be more stoked to see them live. I think their new album is incredible, but I am very very very ready to hear some of the songs from the first two albums. The xx is by far one of my favorite bands, and I cannot believe I still haven't seen them live before (even if I've seen Jamie live three times). From what I've heard/watched online, their live show is a spiritual experience, so you know where to find me Friday night.
Travis Scott
If someone says that Birds in the Trap Sing McKnight was not their favorite album of 2016, probably cut them out of your life. I think it is one of the strongest works I have ever heard, and I listen to it all the way through at least once a week (I'm even listening to it right now). I haven't seen Travis live before, either, so I'm going in with no expectations. I will probably see more of him W2, just because I want to hit as much of The xx in W1.
Dillon Francis
Because I haven't seen Dillon enough in the last six months, I will have to see him, again, at Coachella. A few years ago, I could not stand him because I saw him do an interview and he was such an ass, but I guess I just didn't really understand his shtick yet. I was dragged to his set at my first Coachella, and I instantly fell in love. His sets are always straight fire, so definitely make a stop here. Plus, I'll need to fulfill my bounce need this weekend, so all his moombahton should help the fix.
Crystal Castles
I was supposed to see Crystal Castles in the Fall, but something came up, so I had to sell my tickets. I haven't seen Crystal Castles before, either, and I am very interested to see what their shows are like without Alice. The inner angsty teen in me lives for Crystal Castles, and I am so excited to finally see what they're like live.
Stormzy
Stormzy is killing it in the UK, and I would be surprised if he didn't get big in the US. He perfectly encapsulates London Grime, and his new album, Gang Signs & Prayer, is fantastic. I like that his sound is very Grime, but from track to track, there is a lot of breadth. I haven't seen him live nor heard of many other people having done so either, which really intrigues me.
Saturday
Gaga
You should know by now that this chick is my number one priority this year. If you told me when I was 15 that I would be watching Gaga at Coachella in my senior year of college with all of the most incredible friends I could ever ask for, I would never believe you. I haven't seen Gaga in two years since the Cheek to Cheek Tour with Tony Bennett, so it'll be so fab to see my mom live, again. I am really excited to hear all of the songs from Joanne, but I really hope she does bring back some old favorites. While I am biased, I will HIGHLYYYYYY recommend going to see her. She will blow you away.
DJ Snake
About a year ago, I called that DJ Snake would play Coachella, so you must imagine my immense excitement upon seeing the lineup this year. I saw DJ Snake at Coachella two years ago, and it was so much fun. Since then, I have become a much bigger fan, and I think he one of the strongest DJ's and producers in the game. Encore was my other favorite album of 2016. DJ Snake's breadth and style ranges so widely, and it is showcased incredibly well on Encore. I am so pissed that he and Gaga will most likely overlap because he was the one person I have been telling everyone they have to go see. While I'm sure everyone is hyped to hear his poppier songs, I cannot WAIT to see his heavier tracks, like my favorite, "Pigalle," live. Try to tell me you're not dying to mosh when you hear "Propaganda."
Gucci Mane
I am so excited to see Guwop live. He has had a massive year, so I'm sure his set is going to be unreal. I am also predicting a lot of guests, as well. Gucci will probably overlap with Snake and Gaga also, which I'm super bummed about. If I have no time but only to hear "15th and the 1st," then I will leave Indio happy.
Mura Masa
Like with Crystal Castles, I had to sell my Mura Masa tickets last year. Mura Masa's work is so underrated, and I am glad that he is getting more mainstream exposure. I have yet to also see him live, so I think that his set will be so good. I feel like the set will remind me a lot of Cashmere Cat in 2015 where everyone is vibing and dancing the whole time.
Sunday
Lorde
Lorde will forever be one of my favorite artists. I only heard a smidge of her at Coachella in 2014 when we were getting food, but I went to her show at The Greek a few months later, and it completely blew my mind. She is fantastic live, and her show is quite an experience. I am excited to hear more songs from her new album, as it is a bit of a different sound then Pure Heroine. Try to act like you're too cool for her all you want, but there is no denying her incredible talent.
Justice
I. Am. So. Excited. To. See. Justice. This is definitely an act that I think is going to attract a very diverse crowd, and I believe it is going to blow everyone's mind. I am assuming they'll play Sahara or maybe Outdoor. Everyone has always said their live shows are next level, so I assume nothing less. I am going in with zero expectations and can't wait to see what they're all about.
Porter + Madeon
I'm assuming Porter + Madeon are going to play magic hour on Sunday. I saw Porter in Sahara in 2015 and was completely amazed. While I had only known a few of his songs by then, I was really impressed by his whole production. I saw Madeon a few months later and also was stunned. I saw their joint tour in December, and it was one of the best live shows I have ever seen. Porter + Madeon really compliment each other, and you can see (and hear) how much they put into their live shows. This set is going to be unreal. Also they're the cutest SBC best friends.
Kaytranada
I have tried so many times to see Kaytra live, and it has never worked in my favor. He played at Camp Flog Gnaw this year, but we ended up staying for Lil Wayne's whole set, so we never made it over. All of this bad luck makes me so ready to finally see him. His album, 99.9%, is incredibly strong, but I am definitely much more excited to hear his deeper cut flips and remixes. Plus, I am really interested in seeing his live production and visuals.
Skepta
Skepta was supposed to play Coachella and a bunch of other shows in the US last year, but his Visa got messed up, so he couldn't come into the States. It makes me so sad that it had to be Drake who is going to bring Skepta more into the American mainstream because he is unreal. I was first introduced to Skepta about two years ago by my brother, and having studied abroad in London twice, I definitely understand all of the buzz. Everyone at the clubs there lose their minds when Skepta comes on. His set will be so hype, and I will probably cry when I hear "It Ain't Safe" as I feverishly decide to mosh.
What So Not
WSN is definitely also in my top acts I will not miss at Coachella. I was first introduced to WSN about three years ago by this lil DJ named Flume. (I bet all of you fakes didn't even know Flume used to be one half of WSN, did you?) Ever since Flume blew up and let the duo, Emoh has really taken the project to such heights. His live sets (and mixes) are unreal, with a perfect balance of different sounds and genres, while keeping it heavy and super lit. I haven't seen WSN in about two years, so I am eager to relive the magic again.
Anna Lunoe
At Coachella in 2014, we decided to go early to the festival on Sunday, and one of my friends insisted we go see Anna Lunoe. I was immediately stunned. I live for female DJs, and her mixing is unbelievable. (Imagine how I felt in a club in Vegas this past weekend when "Radioactive" came one). I try to introduce her to all of my friends, and everyone is always super into her music. I am willing to show up to the grounds at 1 pm if I have to so I can see her. Her work has really taken off since I last saw her, and if there is one person you haven't heard of but must see, it's Anna Lunoe. She also has one of THE BEST Diplo + Friends mixes.
SHOULD STOP BY
These are other acts that I will probably see or stop by.
Saturday
Bon Iver
Röyskopp
Four Tet
Majid Jordan
Classixx
GRYFFIN
Friday
Father John Misty
Glass Animals
Little Dragon
Big Gigantic
DRAM
Sampha
Nora en Pure
Sam Gellaitry
Sunday
Hans Zimmer
DJ Khaled
Lil Uzi Vert
Jai Wolf
Gold Link
SOFI TUKKER
Worth Checking Out
Other acts that aren't my main priorities, but I would be down to check out.
Saturday
Tycho
Hot Since 82
Swet Shop Boys
Friday
Empire of the Sun
Mac Demarco
SOHN
SNBRN
Sunday
Future Islands
HONNE
Matcha had me...feeling all the feels, getting ready to drown in paella AND moshing like there is no tomorrow.